Green public procurement is gaining momentum in both the EU and the US. With governments aiming to make their procurement activities more sustainable, it is becoming of greater importance for investors, credit rating agencies, companies, public institutions, and NGOs to obtain key information from the green public procurement process.
This may include information about the countries whose uptake of green procurement is highest; the most sought after environmentally-friendly products and services; and the amount of money that is being spent by governments for these products and services.
Perhaps most important, though, remains the information about the contract awardees, i.e. the companies that are proving to be the most successful in green public procurement. This is so because these entities set a benchmark for their peers, while indicating the current state of the market regarding sustainable purchasing.
What is the Green Company Supplement?
The Green Company Supplement is an add-on to TenderAlpha's Green Public Procurement Contracts Data Feed that shows the relative weight of green contract awards as a share of all public procurement activity for contract awardees.
The Supplement is a database of companies - both publicly-listed and private - whose green public contract awards are displayed as a percentage of all public contracts they have been awarded, by total tender count and by total tender value.
The data ranges back to 2010, while the ongoing delivery of new contracts (daily/weekly/monthly) ensures the dynamic updates of the percentage.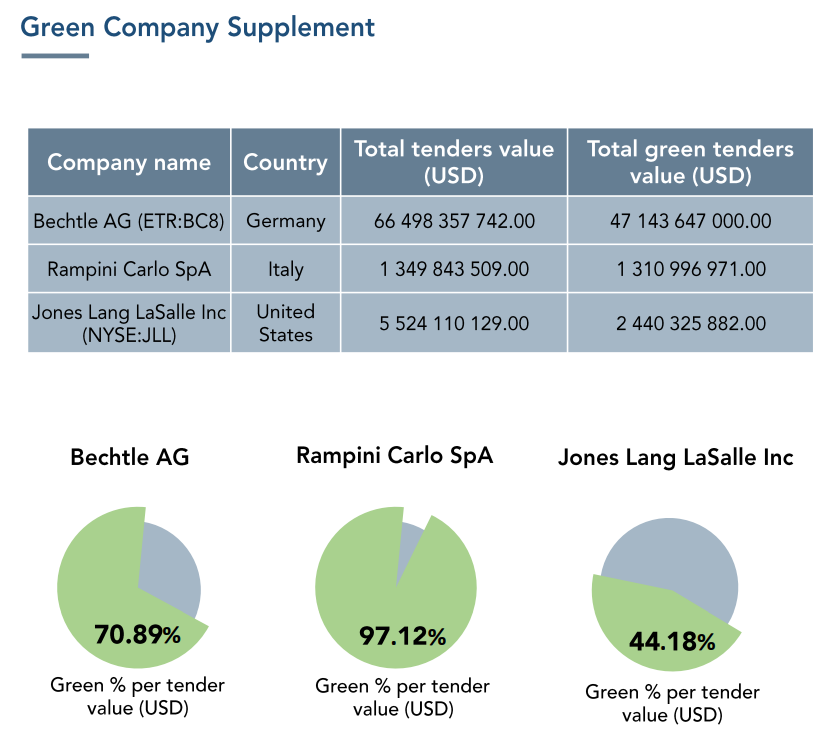 It has to be noted that there are thresholds that a company needs to meet in order to be included in the Green Company Supplement. These are as follows:
At least 5 tenders (green or non-green) directly awarded (in the full scope of TenderAlpha's database)
At least 1 green tender directly awarded (in the full scope of TenderAlpha's database)
At least 1 tender (green or non-green) directly awarded in the reporting period (so there is a change of the data)
How Can You Benefit From the Supplement?
The Green Company Supplement is an important add-on, because it enables a straightforward comparative analysis between companies' public procurement activities. Its percentage representation makes an easy read for its users, as opposed to presenting the information for green public procurement success in absolute terms.
The Green Company Supplement offers insights into the companies' approach to green public procurement. It tells us the value an entity has been awarded and the number of green tenders it has won. The combination of the two can show whether a company focuses on few contracts for a greater USD amount or, conversely, tenders for lots of smaller contracts.
Knowing which companies are the most committed to green public procurement could direct investors towards investing in these businesses, especially given the rise of ESG investing. At the same time, the companies capable of delivering environmentally-friendly products and services could make a reliable supplier for businesses looking to make their supply chain more sustainable.
Learn more about The Green Company Supplement and its applications by contacting us.
You may also want to check out our FAQ blog posts where we have attempted to answer all of the questions our current and prospective customers might have about our government contracts data feeds.
TenderAlpha Global Government Contracts Data Feeds: FAQs
Tender Alpha Green Public Procurement Contracts Data Feed: FAQs